Before a project can be created, a CPU-support or board-support package suitable for the device you are targeting must be installed. A support package is a single, compressed file that can contain project templates, system files, example projects, and documentation for a particular target.
In this tutorial, we are going to use CrossWorks's Package Manager to download, install, and use the MAXIM MAXQ30 CPU Support Package.
If you have already installed this support package, you can skip this page.
Downloading and installing a support package
To download and install a support package:
Choose Tools > Manage Packages.
Select the MAXIM MAXQ30 CPU Support Package entry.
(To select more packages to download and install at the same time, you can control-click the additional packages.)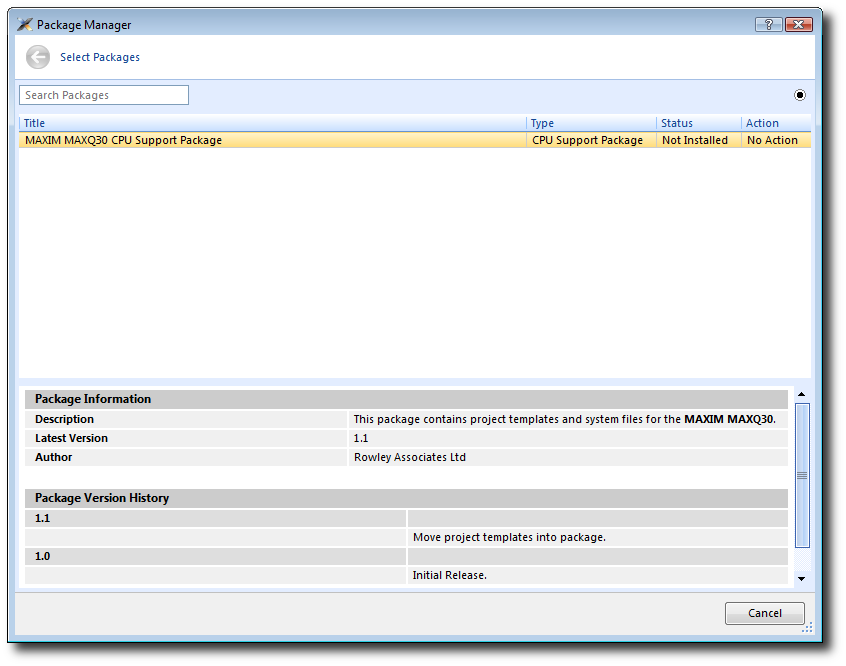 Right-click the selected package and choose to Install Selected Packages.

Click the Next button and you will be presented with a list of actions the package manager is going to carry out.
Click Next again to download and install the support package.
Upon successful completion, you will see a list of the newly installed packages. Click Finish.
Viewing installed support packages
To view the installed support packages:
Choose Tools > Show Installed Packages to list the support packages you have installed on your system. You should see the name of the MAXIM MAXQ30 CPU Support Package you just installed.
Click MAXIM MAXQ30 CPU Support Package to view the support package page in the CrossWorks Browser window. This page provides more information about the support package and links to any documentation, example projects, and system files that may be included in the package.