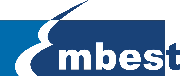 Embest LPCEB2000-B Board Support Package
This package contains project templates, system files and example programs for the Embest LPCEB2000-B.
CrossWorks Version 1 Installation Instructions
To install this support package

Download the file Embest_LPCEB2000_B.hzq using your web browser.
Click the Tools > Install Package menu option.
Select the file you have just downloaded to install the package.
To install this support package using other versions
Release Notes
RPC loader now works with LPC2290 devices.
CAN register definitions now have aliases with the prefix "CANn" in the header files.
Fixed CAN SR register definitions in memory map and header files.
Changed the project template's manufacturer name to "NXP".
Renamed "Philips LPC2000" package to "NXP LPC2000".